 INTRODUCING NTA'S NEW
STATE-OF-THE-ART FIRE TESTING FACILITY
Reliable results to get safe products to market faster.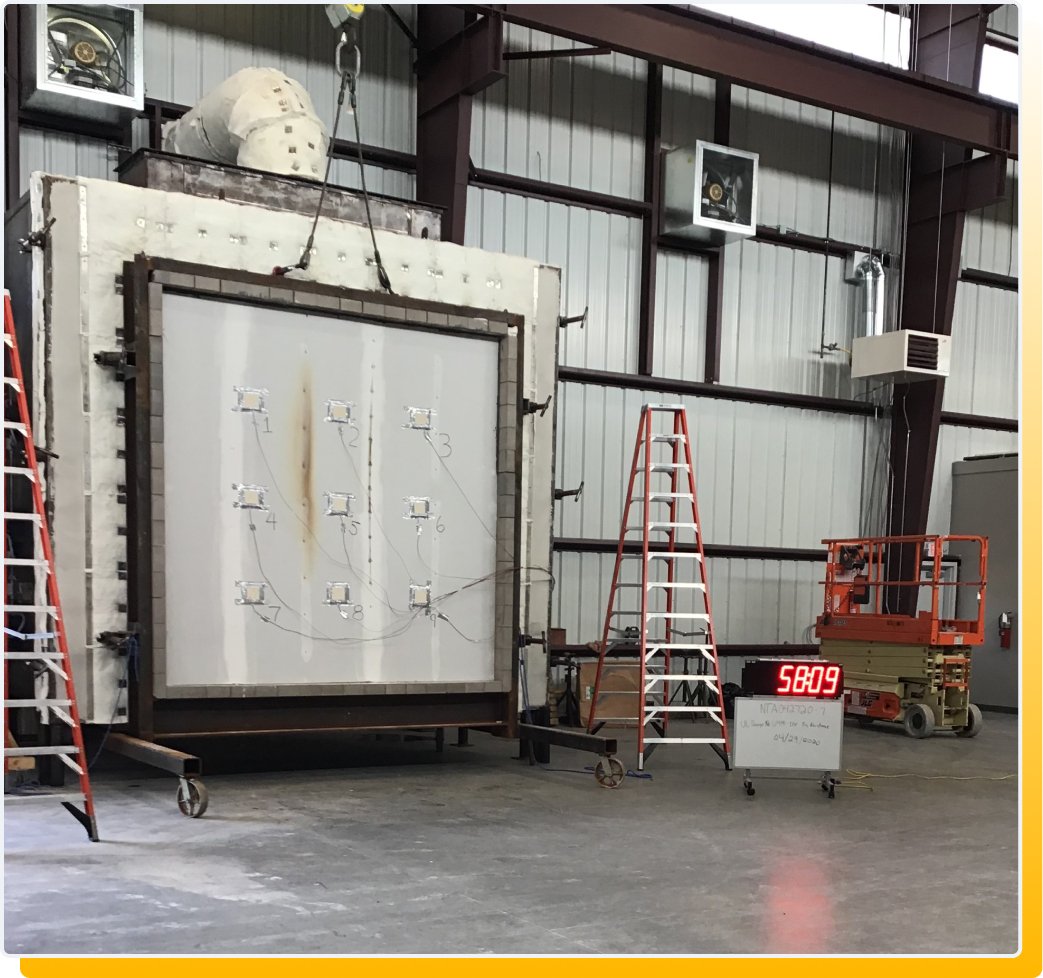 Trusted testing, inspection, evaluation, and reports.
Our team understands that your goal is to get tested products to market faster. Our account managers, engineers, and technicians work together to conduct tests and generate reports quickly. Our relationship with ICC-ES means our
reports serve as a base for certifications from ICC-ES and other accredited bodies.
WHAT WE OFFER
NTA offers a full set of flammability and fire resistance tests including:
TESTING SERVICES
Testing for Fire Resistance on a Full-Scale Vertical Furnace.
Testing for Multi-Story Flame Propagation using the Intermediate Scale Multistory Apparatus (ISMA).
Testing for Flame Spread Index & Smoke Developed Index using the Steiner Tunnel.
Fire Test for Roof Coverings using a wind tunnel and fire source.
Testing of Interior Finish Materials to Room Fire Growth utilizing a calorimeter.
SPEED TO MARKET
Fire testing takes time. Receiving reports should not. Our process is designed with that in mind, and we offer one of the quickest reporting turnaround times in the industry expediting product certifications.
CUSTOMER SERVICE IS AT NTA'S CORE
Customer service is core to NTA. We work to earn your business and to keep it. The NTA team works with you to understand what you need, establish a schedule, and make sure we hit our milestones until your tests are complete.
PART OF THE INTERNATIONAL CODE COUNCIL FAMILY
NTA is a proud member of the Code Council family of solutions - the leading source of international codes and standards. That means you get a team of experts that intimately understands compliance and ES reporting requirements.
LEARN MORE ABOUT NTA FIRE RESISTANCE TESTING & FLAMMABILITY OF MATERIALS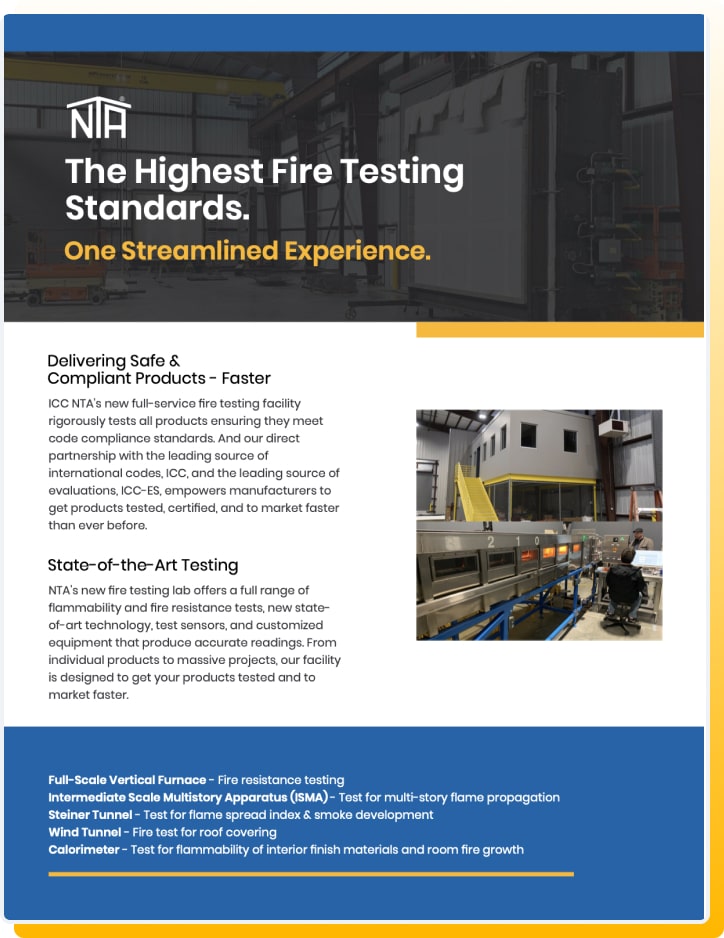 Rely on ICC NTA to help you get trusted products to market. Our equipment uses the latest advances in fire testing standards for accuracy so your customers know they can trust the results.
Accurate Fire Resistance & Reaction and Flammability test data to meet regulatory requirements, code compliance, and certification standards for ASTM International, UL, and the National Fire Protection Association, among others.
Our testing aligns with the requirements for products to comply with the standards for ICC-ES certification.
From our pricing to our data and processes - ICC NTA provides visibility so you and your customers have peace of mind.
ICC NTA's team of experts creates a straightforward testing process designed for speed and accuracy.
From single products to massive projects, we work with any common material for small or large companies.
Blog
Stay informed about latest trends and news in fire testing as well as new technologies and the most recent standards.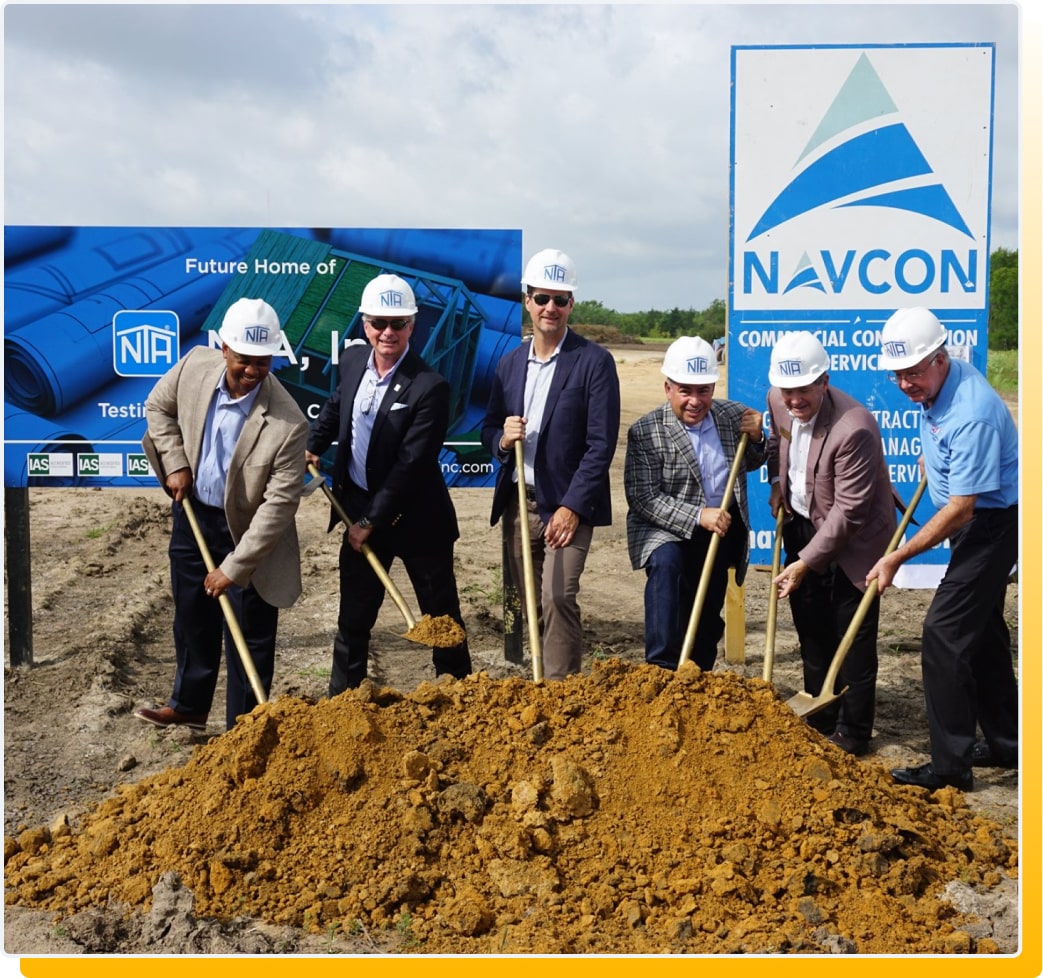 About NTA
NTA is a member of the International Code Council (ICC) family of solutions. As an accredited third-party agency, NTA provides code evaluation, product certification, inspection, engineering, plan review, and testing services, paired with independent quality and standards compliance verification for building product manufacturers. With offices, testing labs, and training facilities in both Nappanee, Indiana, and Bryan Texas, NTA serves residential and commercial builders, code officials, manufacturers, and suppliers throughout the building industry.